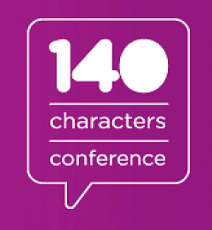 On September 14 I had the pleasure of speaking at the 140 Characters Conference in Boston, conceived and hosted by Jeff Pulver. I was fortunate to be invited to speak to the crowd of 400 – my topic was "finding your voice." In a nutshell, while we love to measure followers, engagement and content, the quantitative data is fed by the qualitative- the actual content, which is in turn fed by a confident, consistent voice, setting expectations for persona, tone, language and frequency. I laid out a few simple "tent poles" for voice:
Forget Twitter – Voice is platform independent, reaching across all communications channels
Know who you are – In PR, the first move with a client is often to conduct messaging sessions – a company (or person) must know their core values and be able to express them in easy-to-understand language before expressing it anywhere
Be consistent – This isn't just about repeating "talking points," but also being consistent in tone and frequency to create expectations of what you talk about, how you talk about it and when and where you will be to talk about it
Be aware of  context – A Tweet- or any message- does not appear in a vacuum. Know what is going on around you, what events are taking place, to whom you are speaking, what either media is attached to your message, and adjust your consistency points accordingly.
Here is a quick rundown of the Twitter voice "archetypes" I mentioned- by no means meant to be an authoritative or complete list, but is based on my own observations with uinput from friends and colleagues:
"Corporation with Personality" – This, of course, is the cliche gold standard of corporate social media voice. Rather than being "Soul-Free Megacorp," giving hints of real people behind the curtain humanizes corporate presence and makes them more approachable. The example I gave (staying away from clients), was eHarmony's @eHarmony_Jack. Most obvious is the use of an individual's name in the Twitter ID, but the actual lTwitter stream bears this out. Doesn't it make sense for an online matchmaking company to have a personal touch, wherever they communicate?
"Bot" – Social media consultants are supposed to shin the feed-spewing "bot." However, consider the success of Woot,.com on Twitter (@woot)- they are straight-up bot, and very successful at it. Why? They created an expectation, and delivered on it. That doesn't mean they can't do more, but I nearly clicked on the Sandisk Sansa Fuze offer ($34.99!)  as I write this.
"Helper" – Yes, this is the customer service side, endlessly personified by @comcastcares. I went with another overused example, Best Buy (particularly Coral, who helped me out recently). Best Buy shows the ability to go cross-platform (using email and – gasp!- telephone to communicate with customers and store managers), and cross-company, calling out- publicly on Twitter- product manufacturers to jump in and help, rather than throwing out a toll-free number and ducking.
"Personality with Corporate" – Love or hate the term personal brand is a powerful weapon for individuals who create their own online voice. This person lends their own well-tended social media channels to employers and clients, a two-way street that requires agreement on behaviors and ownership. I singled out my friend Scott Monty who lends his channels, particularly Twitter, to Ford Motor, but this is where anyone's  individual participation meets their "9 to 5" world, further humanizing a corporate brand, while boosting the credibly (if used correctly) of the individual's.
"Lurker" – The starting point for any Twitter presence. We encourage any company to graduate from lurking to participation, but will not discourage them through disparagement.
The 140 Characters Conference was long on individual characters- I worried that my talk was too corporate-focused, but the truth is that the need to find voice is advice for the individual as well. I also believe companies- even large companies- can learn something from successful individual Twitterers.
Here are a few favorite examples:
Alicia Staley (@stales) Reminds us that passion, not to mention life-altering events, can inform our voice. What is your mission? For this three-time cancer survivor, it is to connect people with questions about cancer to improve their lives, treatment and knowledge
Lane Sutton (@kidcriticusa) Before we contemplate the potential horror of the existence of a 13 year-old "social media consultant," consider the maturity, confidence, and willingness to learn of a new entrepreneur. I take from a Tweeter like Lane the reminder that a confidence belying your experience combined with a willingness to ask questions and learn from the rest of the industry are effective tools.
Amanda Palmer (@amandapalmer) Takes a business (in this case a musical career) predicated on constant activity and takes it to the the extreme dictated by Twitter "What am I doing now?" what's more important is that a person involved in popular entertainment can engage a fan base without treating them like idiots or cattle.
Video interviews with some of the individuals who presented may be found here at the BostonTweetup blog.
Amanda Palmer and John Daly of the Boston Police Department, courtesy of Alan Weinkrantz and the 140 Characters Conference